Dollamur Smooth Flexi-Roll Mats
SKU: DFMCUST
Save

Liquid error (product-badge line 32): Computation results in 'NaN' (Not a Number)

%
---
Martial Arts Flexi-Roll® Mats
This virtually seamless flooring system is customizable to your specifications. These revolutionary mats uses a high-density cross link foam which utilizes tiny air pockets to cushion falls and take downs while firm enough to pivot and spar upon making Flexi-Roll® optimum for grappling, throwing and striking martial arts. Fast set-up and tear down makes it ideal for multi-use dojos and gyms.
DOLLAMUR TAKES YOUR MA/MMA TRAINING TO THE NEXT LEVEL FOR PROS AND STUDENTS
Judo, Jiu-Jitsu, Tae Kwon Do, Mixed Martial Arts, BJJ, Muay Thai 
Dollamur utilizes the most advanced technology to design and manufacture mats that specifically support the sport of martial arts. We take into account various MA/MMA styles and work with Pros, Masters and students to develop textures and high-performance foam that allows athletes to perform at their maximum level. Our goal is to not only meet but exceed, expectations by developing innovative mats.
Dollamur vinyl in smooth or tatami finish is thick, durable and pre-treated with an antimicrobial. The advanced technique used to bond the vinyl to the foam means the surface will never require reconditioning and will provide a stable but forgiving base.
To help maintain a healthy mat, use 
Dollamur Flexi-Roll® Features

Guaranteed durability and performance
Lightweight and easily portable
Customizable to any size area
Available in 1.25", 1 5/8" & 2" thickness
Smooth or tatami surface available
Safe and impact absorbent micro air pockets cushioning
Official Mat of the Olympics and Pan Am Judo Championships
IJF approved
Fast easy set-up and tear down
5 Year Guarantee
Add logos, markings and sponsorships
CHOOSING THE RIGHT MAT
WHAT'S YOUR STYLE?
THICKNESS:
Knowing the best option for your MA style is the first step in choosing the right Dollamur mat. We have developed a general guideline to assist you in selecting the best flooring for your dojo.
FOAM:
Dollamur FLEXI-Roll® and FLEXI-Connect® Mats are manufactured using the latest in athletic foam technology. The closed-cell, cross-linked foam provides maximum shock absorption and will maintain performance throughout their life.
TEXTURE:
Mats are available in both smooth and tatami textures.
Tape-Free, Hassle-Free Solution for Flexi-Roll Mats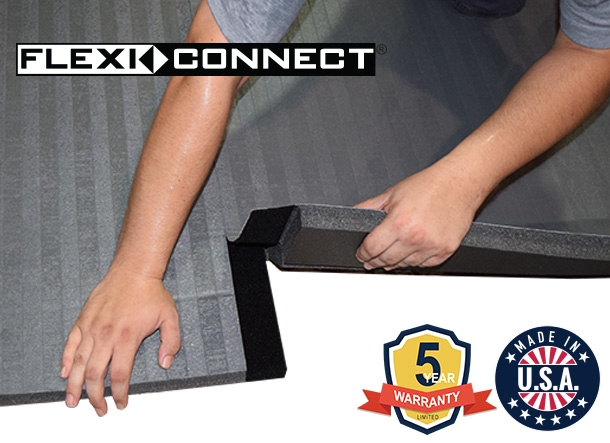 FLEXI-CONNECT TAPE-LESS CONNECTION
A VIRTUALLY SEAMLESS SURFACE
Dollamur patented FLEXI-Connect® Roll Mats have revolutionized the mat industry by eliminating the need for mat tape on the seams. With a built-in hook and loop roll connection, you can create a smooth, virtually seamless mat surface.
Dollamur patented FLEXI-Connect® system has revolutionized the mat industry by eliminating the need for separate mat tape. With built-in hook and loop, you get a seamless mat and reduce setup and tear downtime to just minutes saving you hundreds on mat tape. FLEXI-Connect® mats are lightweight but durable and the built-in connection system eliminates unsafe seam gaps.
The Flexi-Connect™ feature also saves hundreds of dollars normally spent on tape every year and is a green solution for the kilos of wasted mat tape that normally go to the landfill.


COLOURS, LOGOS, RINGS AND BORDERS
CREATE ATMOSPHERE AND SUPPORT YOUR BRAND
What's a sports surface without all of the proper markings and borders, not to mention your organization's logo?
Customize your mat with your logo and lettering in any PMS colour. The Dollamur Art Team will reproduce your logo by hand or with Dollamur Digital printing.
Dollamur Digital is the most advanced direct to surface printing technology on the market. Dollamur proprietary ink dries instantly and can endure the most demanding workouts.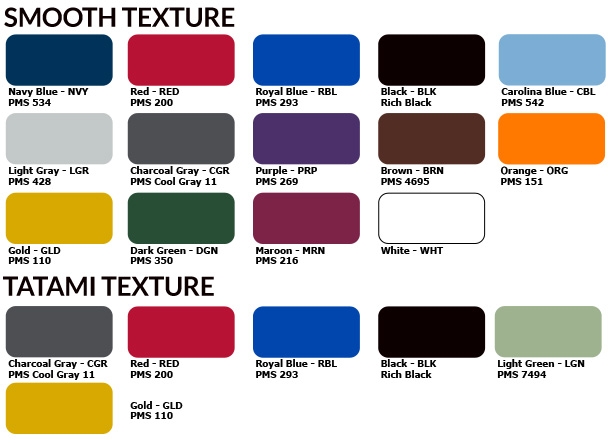 CALL TO ORDER - 1 800-586-5836
---